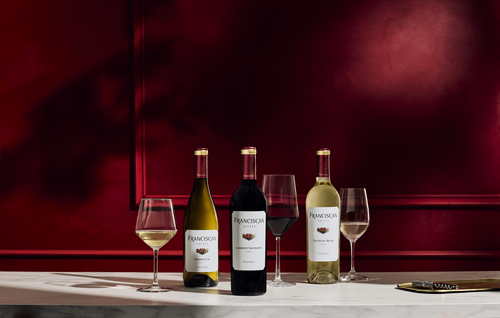 Traditionally Crafted Wines with a Modern Taste
Our portfolio of wines are bold, smooth and flavorful.​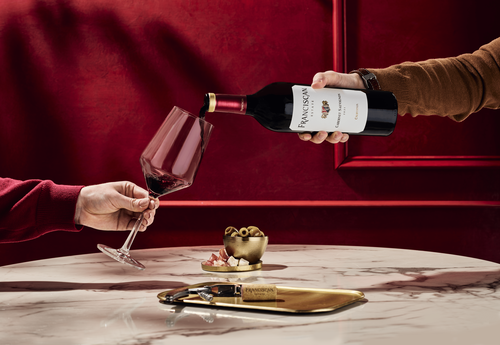 50 Years of Exceptional Winemaking
Franciscan has a rich history rooted in traditional California winemaking but delivers ahead-of-its-time wine.
Franciscan Sauvignon Blanc V21 750ML
Grapefruit, Lime Zest, Peach, Guava
An appealing, fruit-forward taste of the bright, plush and generous Franciscan California Sauvignon Blanc 2021 style. The delightfully crisp and refreshing palate offers citrusy notes of ripe grapefruit and lime zest, layered with rich, smooth hints of juicy peach, guava and pineapple. Subtle suggestions of white florals and vibrant green apple add wonderful texture and lift to the wine, which finishes with a bight flourish. Enjoy this share-worthy wine alongside bright green salads, fresh vegetables or zesty grilled seafood dishes.
Franciscan Cabernet Sauvignon V21 750ML
Toasted Caramel, Chocolate, Toasted Coconut
Our 2021 California Cabernet Sauvignon is a bold red wine with a big presence. Aromas of black tea, clove and anise radiate from the glass, revealing notes of blackberry and black plum. A rich layer of toasted caramel, shaved chocolate and toasted coconut underscore the fruit characteristics, leading to a long, decadent finish. Cabernet pairs beautifully with hearty meat, like filet mignon and herb-dusted standing rib roast.
Franciscan Chardonnay V21 750ML
Pear, Apple, Pineapple, Lemon Flower
Our 2021 Franciscan Estate Chardonnay is a bright, approachable white wine grown in California. Hints of freshly sliced pineapple and lemon flower greet the nose. With no oak aging or malolactic fermentation, the wine feels refreshing on the palate with juicy notes of pear and apple. A wonderful texture gives the wine a plushness that carries through to a refreshing finish. This Chardonnay is delicious with cracked crab squeezed with lemon or sweet and sour pineapple chicken.